Well, I have had an incredible 2 days in Dublin at the Global Association of Student & Novice Nurses Conference 2018! Thanks also go to the INMO for welcoming us into their new home the old Richmond hospital! What a privilege to attend as an observer on behalf of the RCN. I've debated, discussed and listened to the voice of nursing from across the globe, from Canada, Norway, France, Italy, Ireland, Egypt and Lisbon! I was the only person from the UK in fact!!! Thanks go to GASNN for making me feel so welcomed!
I have met so many incredible people, hugely passionate nurses and future leaders! In fact, many are already leaders! Expert student nurses and expert NQN! Never underestimate your drive, ambition and leadership- it DOES make a difference! Here's to making the world a better place!
#SNNVoice #never2early2lead #2gether4change #invisible2visible #nursing#globalhealth
So, what was the discussion? And what did we talk about…
We started with opening remarks from Paisly Symenuk, (President) and Liam Conway (VP) of GASNN. Paisly welcomed us by saying 'There is no mandate in age at @GASNNurses all are welcome in both their journey as a student nurse, graduate and as an NQN novice nurse'. I must say that both are incredibly inspiring individuals and it was absolutely my pleasure to meet them and discuss our profession, I plan to remain in close contact with both Liam and Paisly and I look forward to seeing and maybe even collaborating on future projects.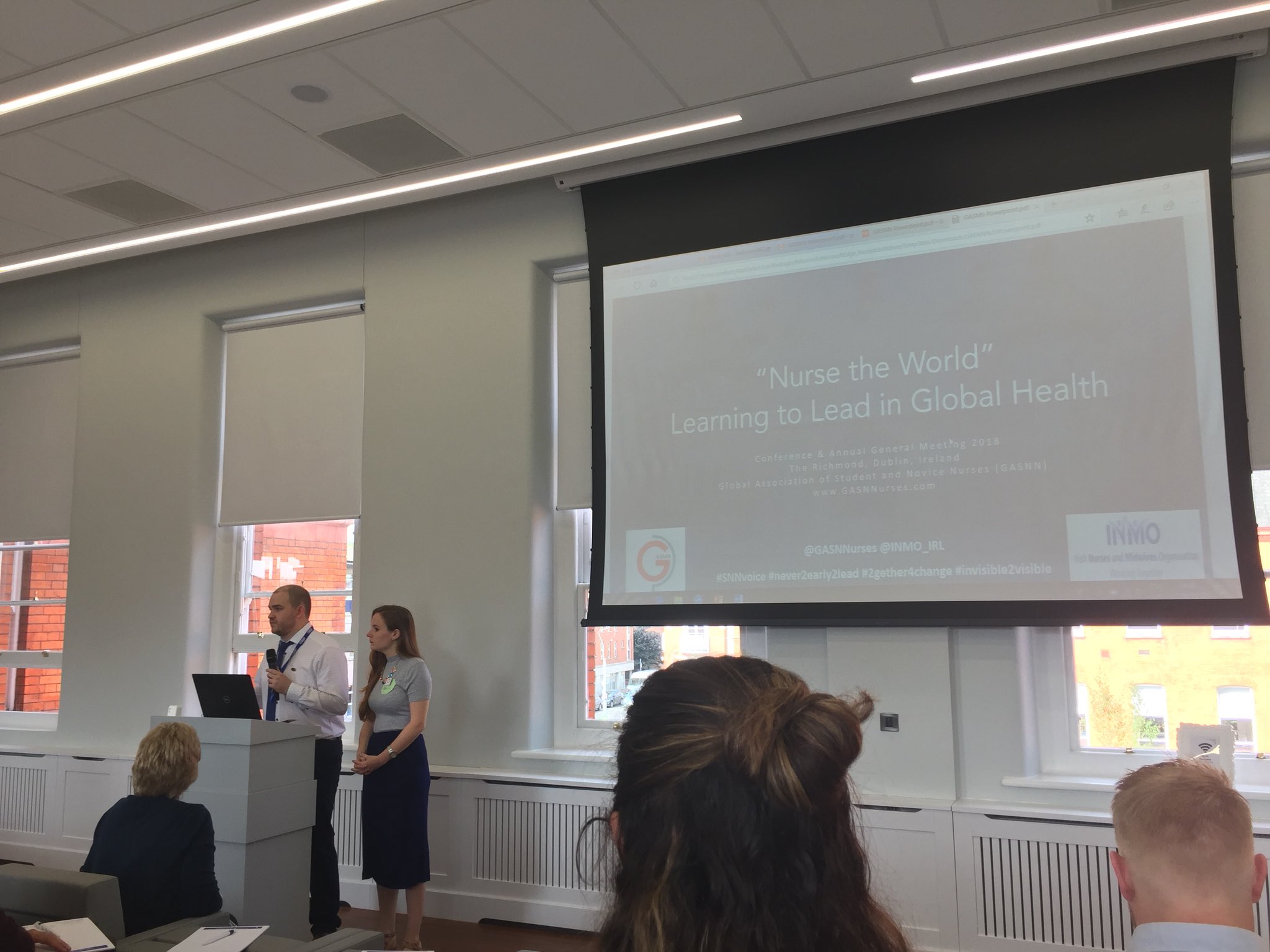 We then had a special greeting from Annette Kennedy, President of the ICN (International Council of Nurses) who opened the GASNN conference with this statement
'Health is a human right. Health is also a human right for those who deliver care too'.
Annette is right! We need better support systems in place, and better resources to deliver the care we need to provide to our patients. Annette went on to discuss that staff retention is a worldwide issue! 'We are putting our new graduates and novice nurses in at the 'deep end'' she continued to say that it is forcing people out of the profession. My question is: we can see clearly fellow colleagues and nurses around us are worn out, and are losing their drive to provide the best quality care. So why are we not addressing this? It's a worldwide issue and the expectations of care are ever growing.
@grastokes on twitter said: '9 months qualified and feeling burn out creeping its way in, run down and exhausted'.
I understand and sympathise with his response and I can see it sadly in so many of my nursing colleagues, of course, this is not what any nurse wants, this is not what was planned when we set out to be a nurse! I'm scared it will be inevitable that Nurses feel this way- and that's frankly not acceptable! We must do something about it!
The first session was on 'Examining challenges in global health in the 21st Century' with Dr Amanda Phelan (Associate Dean Global Engagement, University College Dublin (UCD). Amanda opens the day giving us an overview of #globalhealth key factors that can shape someone's access to health must be considered in health provisions such as; income, education, physical environment, social support, genetics, health services, gender and health. Stating that we need to provide the right care, at the right time, and in the right place for all, globally. This is care that we need to aim for always and continually. Amanda continued to discuss what we must use positive discrimination as a holistic provision in beating inequalities. Equality vs Equity We need to use positive discrimination to enable people to have their needs met, it's not one solution fit all.
The health of the Nation – "One Size does not fit all Globally".
Amanda finished by saying
'What motivates you? You can make a difference even in your local area… step forward, make your voice heard! make things happen that matter to you and keep knocking on those doors, until they open for you!'.
We then heard from Dr. Basem Higazy (Consultant, Health Workforce Department, World Health Organization) on Youth and the Health Workforce. One comment made near the beginning of the discussion stuck with me and blew my mind '217 years to achieve gender equality!?' That's based on us acting now! An unreal and truly unbelievable statistic! Come on humankind! Surely, we are better than this?
@Basem_M_Higazy  stated that there will be '18 million global healthcare shortages in 2030, worryingly 40 million new jobs created' this is due to different needs, different work, ageing workforce! If we don't start acting for our future it will lead to devastating consequences!
Basem advised:
'Stay impatient. Stay foolish. Stay hungry. Stay connected'
We must as the 'youth' of nursing maintain accountability for our own position in the health workforce and its future. He finished by noting the importance of talking about gender and how this will affect our future! Positive discrimination is needed to help recruit more #MenInNursing globally! In the UK only men 11% and women 89% of the workforce. I think it is very clear we need to do something to encourage more men into the profession, we need to work on recruitment and retention of nursing staff from ALL genders, but how can we succeed if we are only aiming recruitment at 50% of the populations? We must address the gender gap!  'we are as strong as our weakest link'.
After lunch, we focused on 'Journalism & Using the Media' which was presented by Jeanne Sutton- Writer (Editor, & Communications Specialist). Jeanne says, 'Nurses are the largest body in the health workforce, and yet we aren't being quoted in scholarly writing or articles? '
Quote of the conference 'Nurses aren't just experts in nursing, Nurses are experts in health.' Paisly Symenuk, President, GASNN.
Jeanne spoke passionately about using your own voice in writing. Jeanne encourages that all nurses can build on their awareness of Global nursing issues: reading, listening to podcast, webinars, documentaries and even social media. We all have the same number of hours in the day: it's up to us how and what we choose to use them for. A question to consider is If you are active on social media platforms…is it inevitable that we should expect to be under scrutiny? And to what level should we expect that?
Amanda gave us an activity which I plan on using over the next year to reflect how I feel as an NQN: Describe yourself in 5 words: driven, unfulfilled, eccentric, seeker and genuine. In time revisit what you have said and see how you have changed over time… I will review this in 6 months' time…
We then heard from Liam Conway (INMO & GASNN VP) and Neal Donohue (INMO Student / New Graduate Officer) talked about engaging via Social Media, noting the importance of nurse networking, but also remembering your accountability and professional duty, to respect your own privacy.  Liam discussed 'Guidance to Nurses and Midwives on Social Media and Social Networking'. Follow the link to see more info: https://www.ul.ie/nm/sites/default/files/Guidance%20to%20Nurses%20%26%20Midwives%20on%20Social%20Media%20%2B%20Social%20Networking.pdf
It was an Interesting document and one that provoked further discussion. 1 point within this document states to always be positive? Although I agree it is vital to remain positive & professional – if we don't talk about the issues we face, how can we truly acknowledge & work towards positive changes?
Neal then went on to further discuss recruitment and retention in Ireland 70% of new nursing graduates consider leaving Ireland! Talk about #healthworkforce issues affecting #health, #wellness & #economy Can't continue what is happening with 50% of the global health workforce being #nurses How do we change this? As I'm sure you are aware we are also facing this challenge here in the UK, with a recent drop in the applications for nursing at 14%, we need to start thinking more about what the future holds for this profession.
Day 2:
Leveraging Science Communication in Nursing Dr Padraig Murphy (Professor at Dublin City University Chair of the MSc in Science Communication Program) session gave me some food for thought…Are we social media science communicators? Are our nursing and healthcare tweets discussions of evidence-based topics spreading the research we read? What do you think?
For me, It's never too late to change someone's life! Ask, advise and act! nurses help change and influence policy, be a part of #MakingEveryContactCount
Another fantastic session was 'Incorporating Standardized LGBTQ+ Healthcare Content in Entry To Practice Nursing Education' Jayden Meville (CNSA President) We NEED to have more education on LGBTQ2S+ in nursing education? Anyone out there reading this, do your university cover this in education? I was very glad to see @GASNNurses carried forward Gender Equity- health workforce, leadership, LGBTQ+ populations through in their AGM! I'm personally in full support #NursingHasNoGender #MenInNursing #WomenInLeadership #RecruitmentandRetention #GlobalHealthIssues
Some of the statics and statements made about LGBTQ+ are outrageous and mind-blowing as actually mainly down to pure ignorance to LGBTQ2S+ in healthcare! "Lesbians can't get ovarian cancer"? Who could believe that someone's sexual orientation would determine that? Tragic assumptions and disregard of people's basic human rights. The Equality Act 2010 outlaw's discrimination against individuals and groups because of their sexual orientation or their gender identity. Prioritise people The Nursing and Midwifery Council Code of Conduct also states that: 'You put the interests of people using or needing nursing or midwifery services first. You make their care and safety your main concern and make sure that their dignity is preserved and their needs are recognised, assessed and responded to. You make sure that those receiving care are treated with respect, that their rights are upheld and that any discriminatory attitudes and behaviours towards those receiving care are challenged.' Education around this topic in universities are still sadly lacking content regarding the unique needs of, and health risks for, individuals who fall outside the "traditional" heterosexual orientation of society. "Knowledge is power" @GASNNurses we must start educating our young and healthcare professionals worldwide on LGBTQ2S+ we must respect the personal values of ALL our patients, it's a part of our ethical code globally. You can prepare for meeting the needs of these individuals by informing yourself, listening, and making some simple and practical adjustments in your nursing practice. Here are some things you can do:
Expand your knowledge about sexual orientation and gender identity
Know key LGBTQ definitions
Deepen your LGBTQ knowledge
Create a welcoming environment for LGBTQ patients
Use inclusive language
Use gender-neutral language
Ask open-ended questions
Reflect the patient's language
Investigate mental and physical health risks for LGBTQ patient.
Convey respect
Changing societal views is now part of being a modern nurse leader: traditional nursing under a medical model is a part of our history, we as nurses are more powerful and influential than ever before. We must lead and advocate for our patients to always have better quality care
Here we are stood in solidarity for LGBTQ+ pride
The final session was 'Why nurses need to organize through dedicated unions' with Dave Hughes (INMO Deputy General Secretary). Dave suggested all nurses who are accountable to a register, should have a membership to a trade union. He talked about nursing leadership and wanting to climb the leadership ladder both internally and externally in the nursing profession. Which posed the question, what makes a good nursing leader? Do you think experience is vital or just beneficial? Is it not the skill-mix that can be provided in a specific leadership role that would make that person a better leader? At what point do we make some an expert? What I would like to understand is why leadership groups of nursing don't encourage more NQN? Student voices are welcome (sometimes) and those with vast experience…but that doesn't sit well with me…because we are missing out on so many motivated #NurseLeaders of the future…
The conference ended with the GASNN AGM, which was a great discussion of plans going forward and the work they hope to achieve other the next year. I am very excited to continue to build this relationship between GASNN and the RCN, hopefully, there is a great partnership on the cards. Thanks to everyone who made me feel so welcome over the 2-day conference, I came not knowing anyone and left with many new nursing friends.
I hope that I can attend the next GASNN meeting!
Quote of the conference 'Nurses aren't just experts in nursing, Nurses are experts in health.' Paisly Symenuk, President, GASNN.